Matkus Shopping Center
Weekdays 10 am – 8 pm
Saturdays 10 am – 7 pm
Sundays 11 am – 6 pm

See opening hours of each shop
Exceptional opening hours at Matkus

Good Friday 15.4. 11–18
Holy Saturday 16.4 10–19
1. Easter Day 17.4. 11–18
2. Easter Day 18.4. 11–18
May Day 30.4. 10-18
1st of May 1.5. suljettu
Mother's Day 8.5. 11–18
Ascension Day 26.5. 11-18
Midsummer's Eve 24.6. suljettu
Midsummer's Day 25.6. suljettu
IKEA store
Weekdays 10 am – 8 pm
Saturdays 10 am – 7 pm
Sundays 11 am – 6 pm
Check IKEA's exceptions to normal opening hours.
K-Supermarket
Weekdays 9 am – 9 pm
Saturdays 9 am – 8 pm
Sundays 10 am – 7 pm
K-Supermarket exceptional hours

Good Friday 15.4. 10-19
Holy Saturday 16.4 9-20
1. Easter Day 17.4. 11-19
2. Easter Day 18.4. 11-19
May Day 30.4. 9-19
1st of May 1.5. suljettu
Mother's Day 8.5. 10-19
Ascension Day 26.5. 10-19
Midsummer's Eve 24.6. 9-16
Midsummer's Day 25.6. suljettu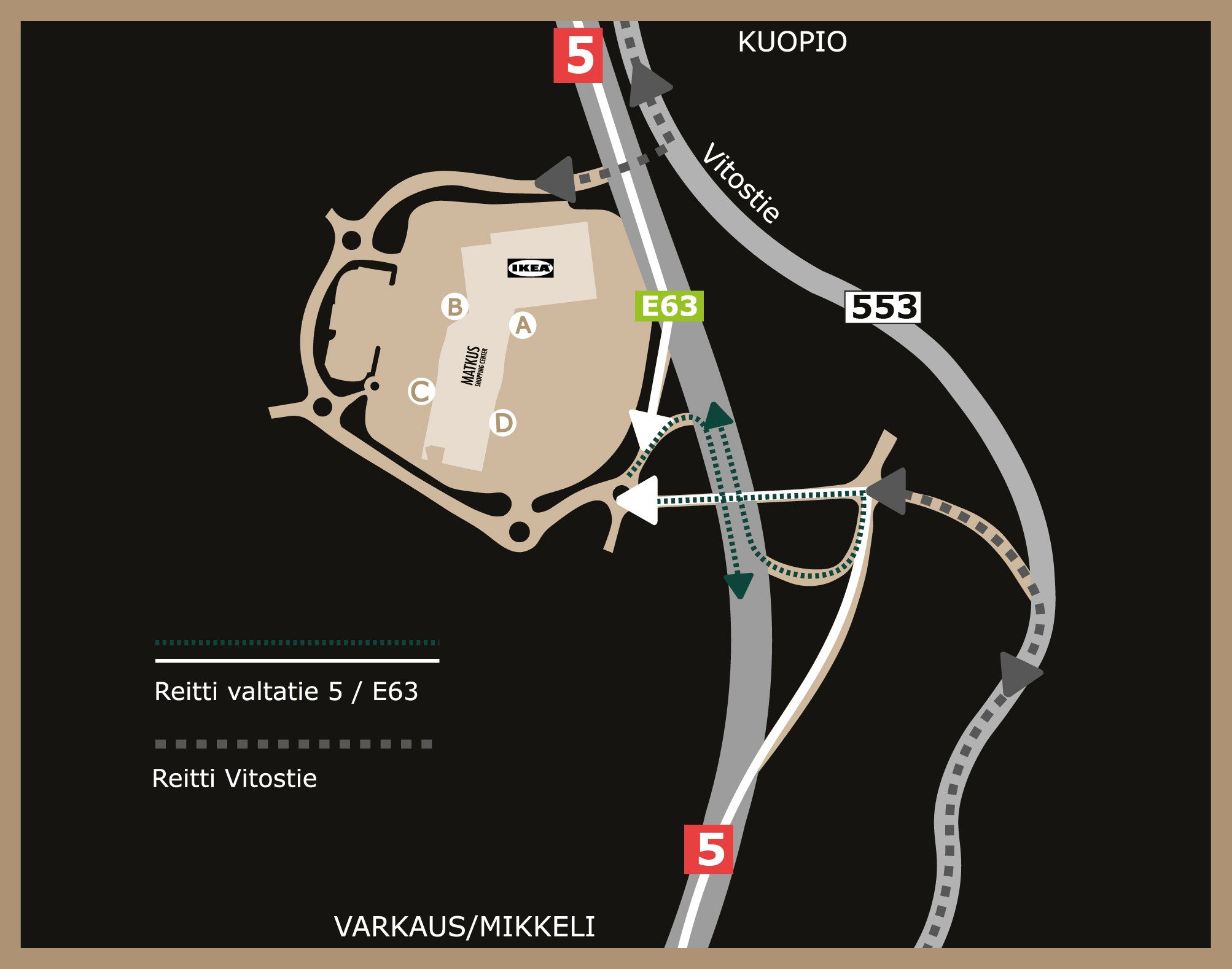 Arrival
Matkus is easy to reach by car, bike and public transport! Matkus is also designed with accessibility in mind.
Arriving by bus
Vilkku, the local Kuopio bus company, run lines 31 and 35 to Matkus. Check Vilkku's timetables (valid from August 12 to June 6, 2021).
Arriving by car
It's easy to come to Matkus by car. There's plenty of free parking outside the shopping center, both in the front and at the back. We provide designated family and disabled parking spaces.
There are total of twelve electric car charging points in the parking area. Four of the charging points are located at the front of the shopping center, near IKEA and the A-entrance. They are equipped with two Type 2 charging sockets. You will need to bring your own charging cable. The charging station power is 3.4 kW. For more detailed instructions, please see the IKEA website.
Eight of the charging points are located in the parking area near the motorway, halfway along the Matkus building. Also, here you will need to bring your own charging cable suitable for the Type 2 sockets. The charging station power in these car charging points is 22 kW. All the charging points are free for the customers of Matkus and IKEA.
Arriving by bike
A bike rack, enabling you to lock your bike by the frame, is available outside every entrance. Behind the shopping center, next to the bus stop, we also provide a covered bike rack, where you can also lock your bike by the frame.
Plenty of good parking on either side of the building
Safe bike parking near each entrance
Larger parking spaces for families near the entrances
12 electric car charging points
---
Accessibility in Matkus
Matkus was designed with accessibility in mind. Parking spaces for people with reduced mobility are located near all four entrances. The rotation speed of the revolving doors can be slowed down using the buttons both on the outside and inside.
Matkus has four wheelchairs for customer use. The wheelchairs can be found on the first floor at door A of the shopping centre (right next to the entrance to the IKEA store). You can borrow a wheelchair by asking for a key at the IKEA customer service or calling to Matkus security 020 7341 900.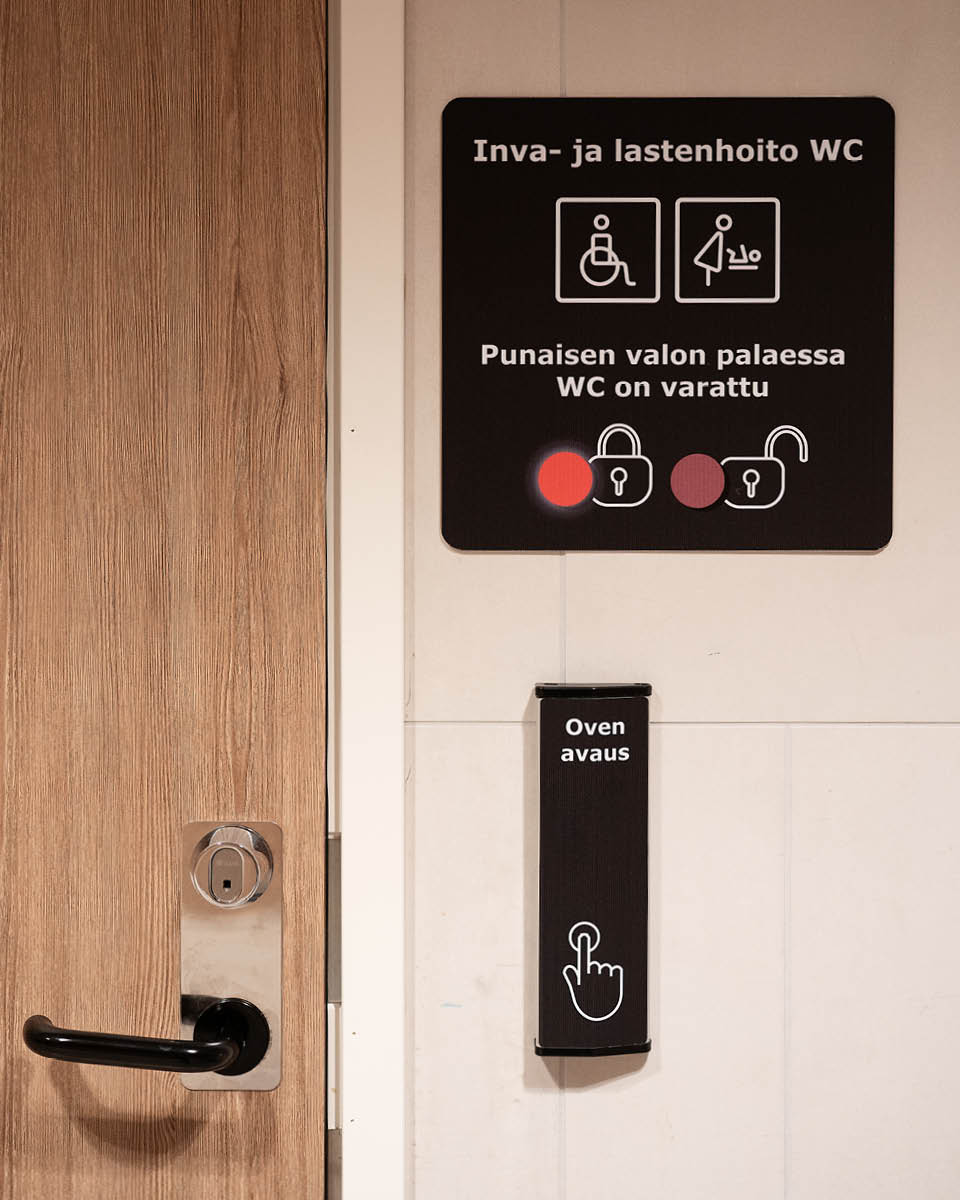 Toilets on floors 1 and 2 (accessible)
---